OutPerform 
New Dashboard & Timeline Features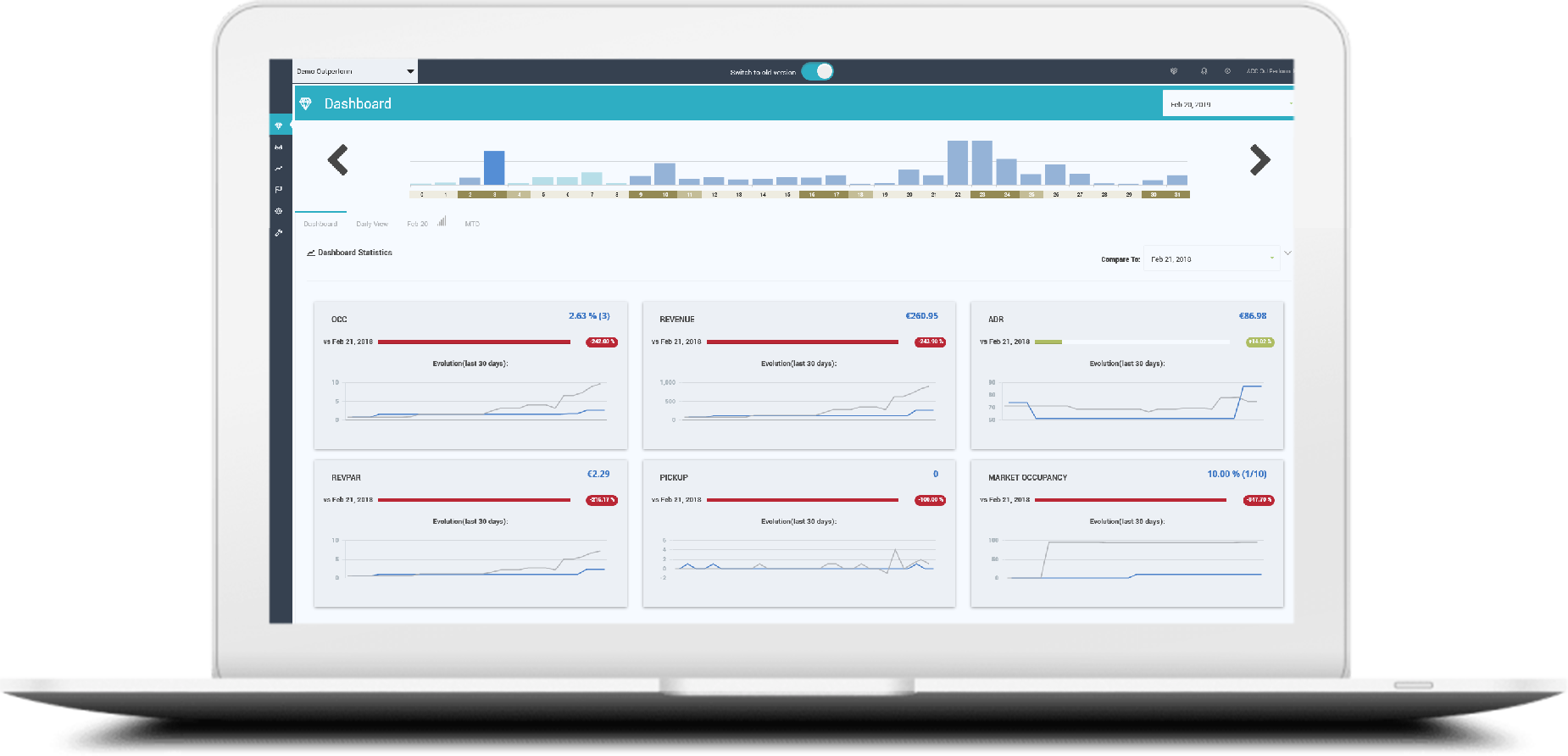 Check the evolution for your most important KPIs at one glance: Occupancy, Average Rate OTB, RevPar, Revenue, Pickup, Market Occupancy. All cards are displaying a 30 days' evolution for the selected date, in comparison with last year performance, with DoW correction from the same perspective.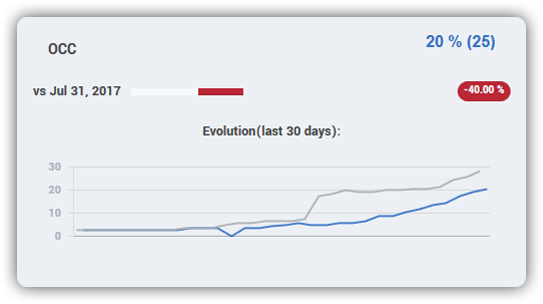 Occupancy Rate Card
One of the most important KPI's, is expressed in both percentage and number of occupied rooms.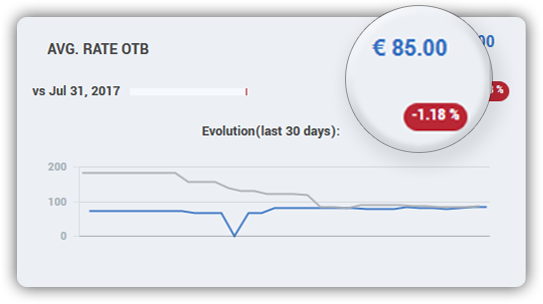 Average Daily Rate OTB
Shows the evolution of the daily rate and highlights the selected date rate.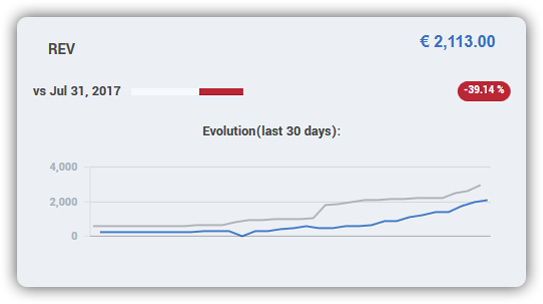 Revenue Card
Income generated, on a daily basis in the last 30 days, up to selected date.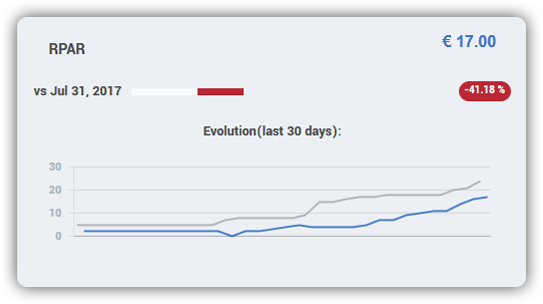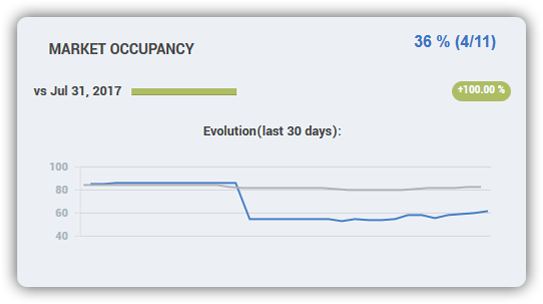 Market Occupancy Card
Showing the occupancy percentage (and number) in your hotel's market.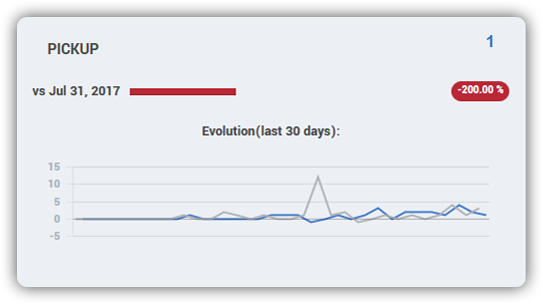 Pickup Card
Daily Pickup (-1)
Depending on your PMS data, you could also have…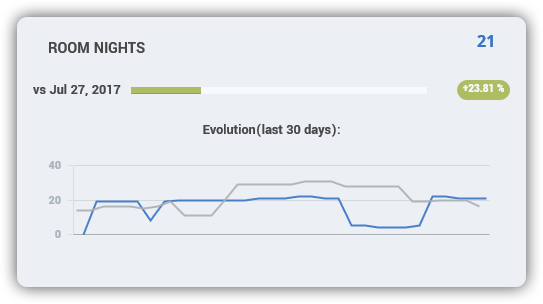 Bookings Card
Total number count of bookings with
checkin = arrival date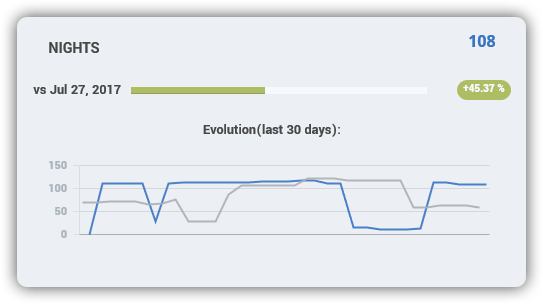 Nights Card
Sum of the LoS for all bookings in the inspected period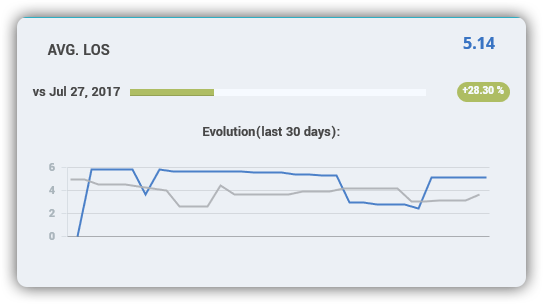 Average Length of Stay Card
nights / bookings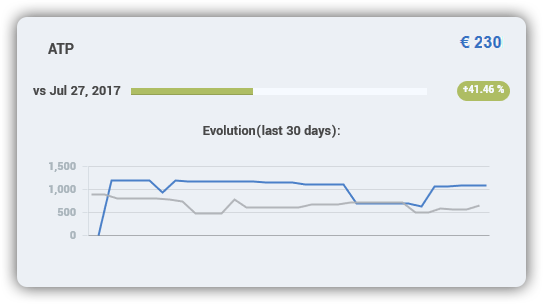 Average Transaction Price Card
bookingsRev / bookings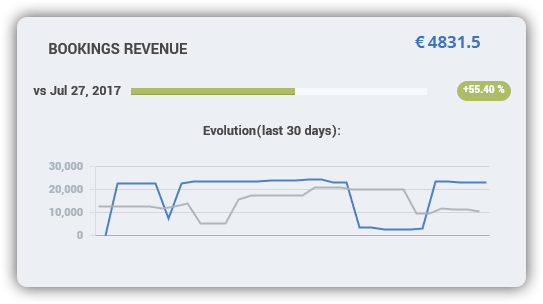 Bookings Revenue Card
sum (ttlRev per reservation) for all bookings from the inspected period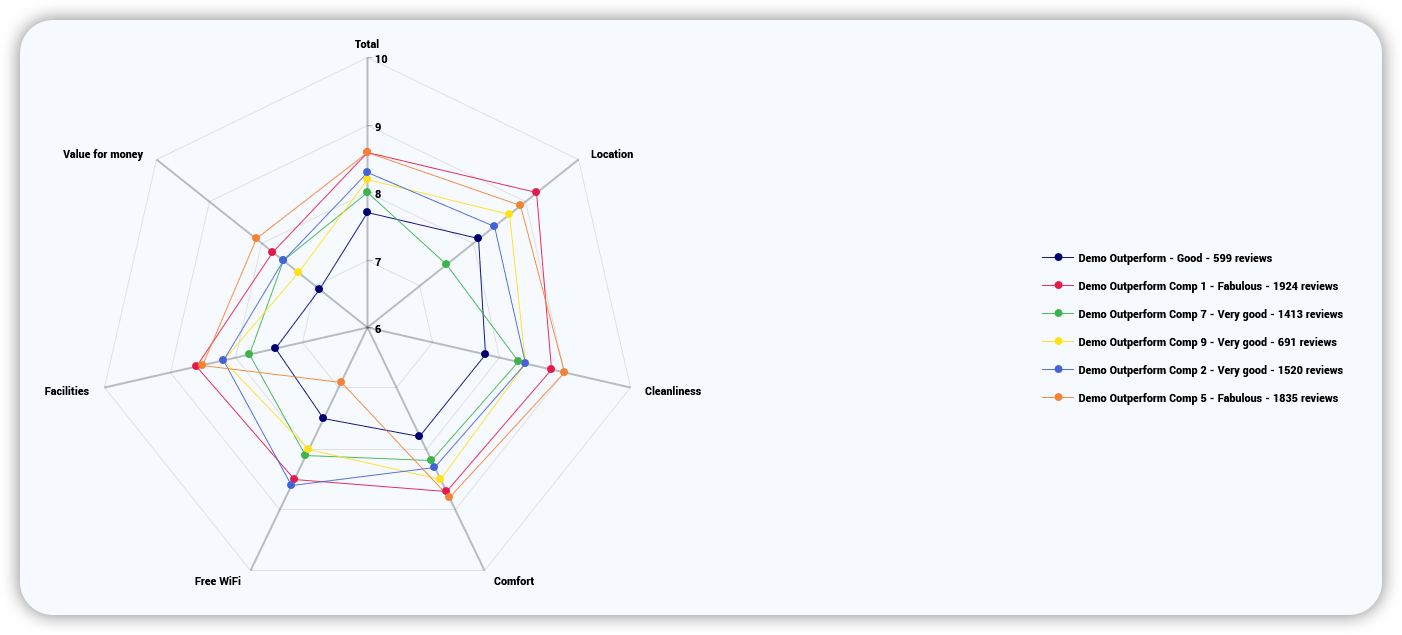 Guest Rating Section displays the booking.com reviews for your property and for you compset:
Location, Comfort, Staff, Cleanliness, Value for money, Facilities and Free WiFi.
It also displays the total number of reviews and the average guest rating for all categories.
E-COMMERCE STATISTICS
Integrating Google Analytics E-commerce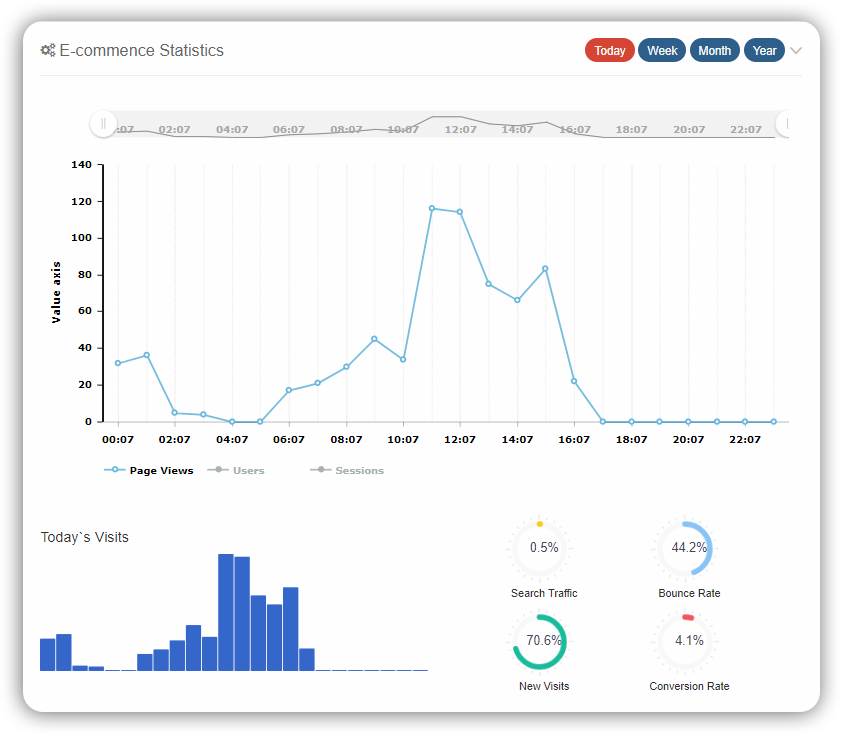 If you have Google Analytics Ecommerce Tracking set up, OutPerform can display this info, so you can easily correlate your sales data with website usage data like sessions, bounce rate, traffic etc.

Data available:
• Graphic with Page Visits, Users and Sessions.
• Chart with today's visits.
• Percentages for Search Traffic, Bounce Rate, New visits, Conversion Rates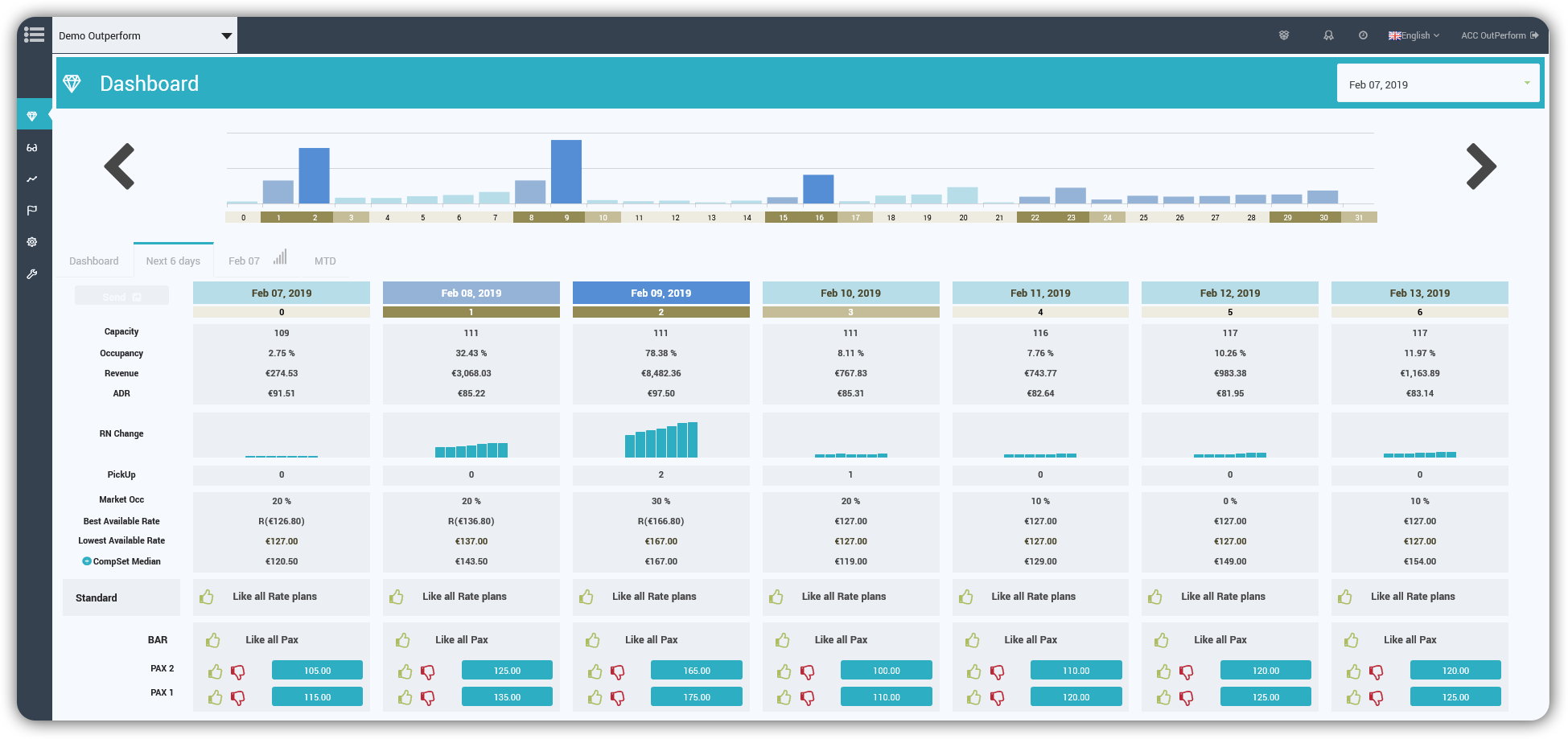 Recommended rate section which now includes:
• The reco rate for the Reference room-rate;
• The calculated rate for the rooms types, rate plans and different occupancy linked to the reference Room and Rate (master room and rate);
• Like / dislike option at different level: rate/room/pax;
• Possibility to input a different rates;
• Reco Inspector.
• Formulas displayed at mouse over.
Details about the Recommended Price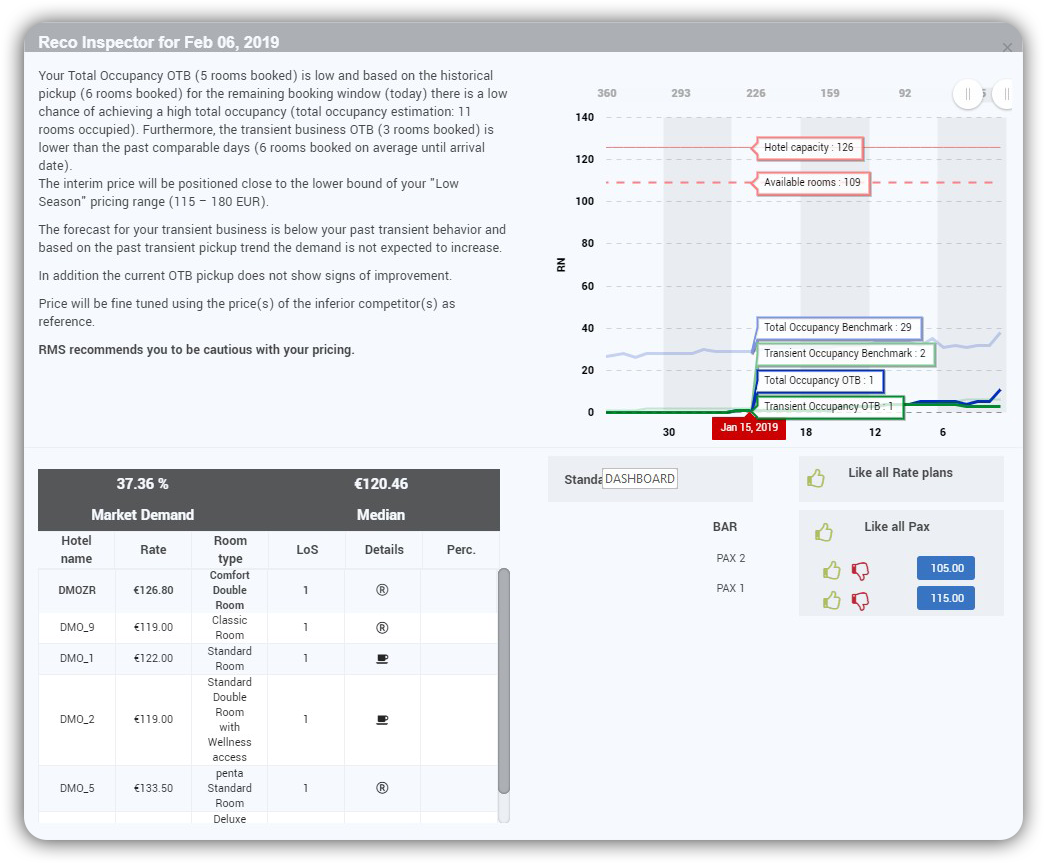 Recommended Price section
Room Nights Evolution Chart
Graphical display of the RN evolution for 1 year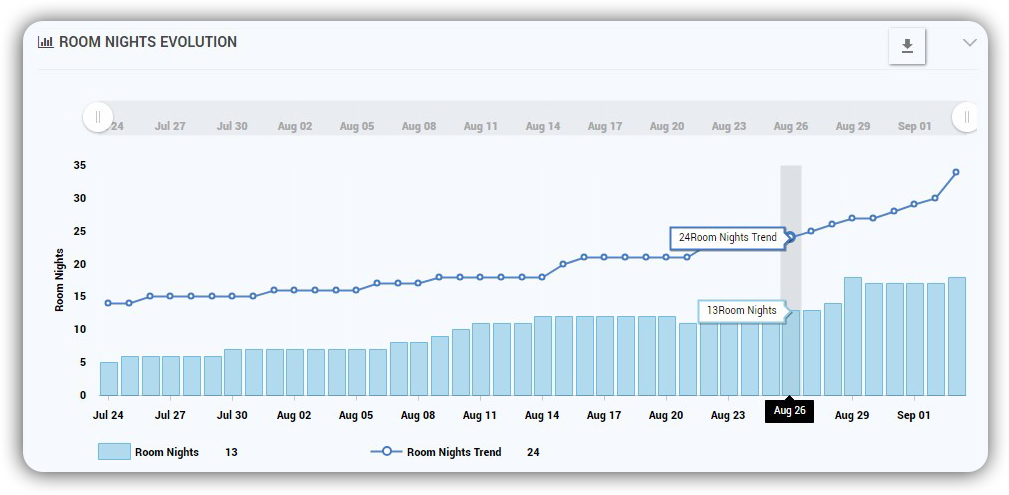 ADR Evolution Chart
Graphical display of ADR evolution for 1 year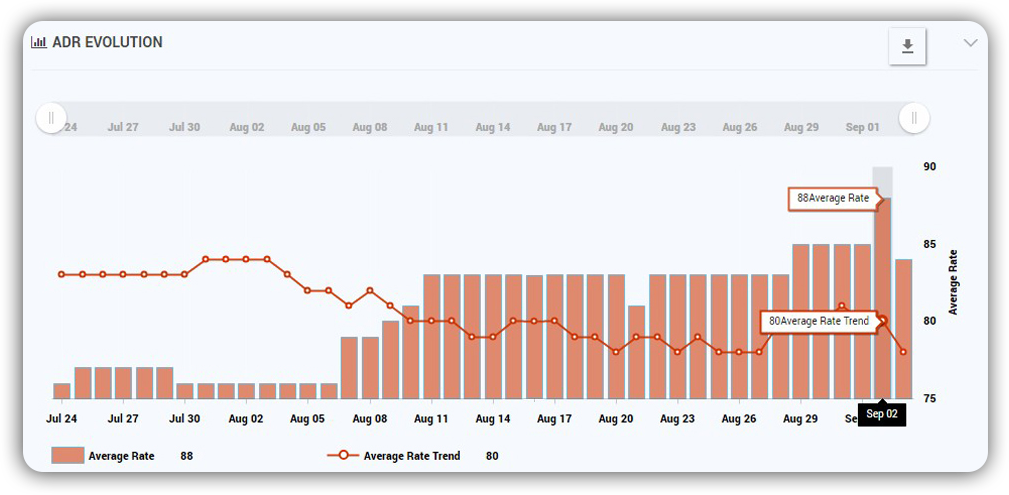 Booking Pace Chart
Check the rate at which reservations are made for a particular date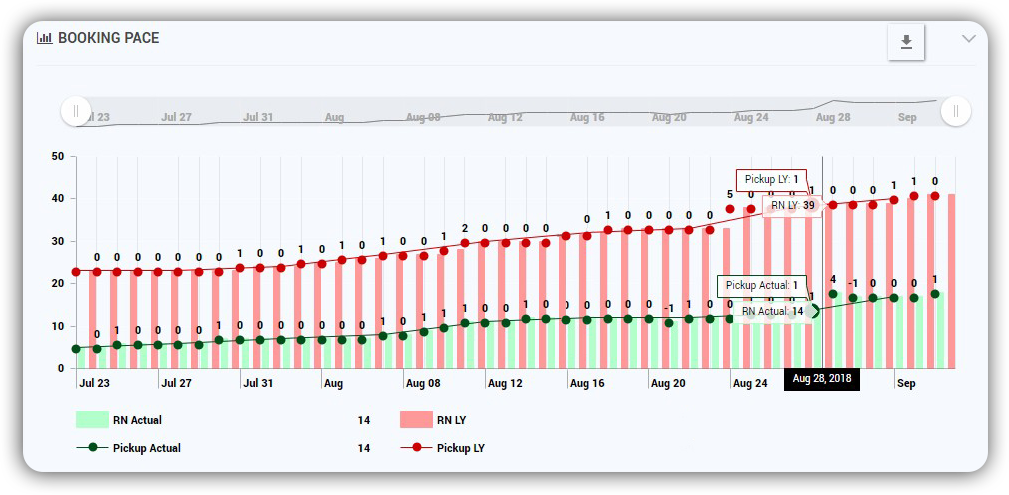 TIMELINE
New design, new elements, new structure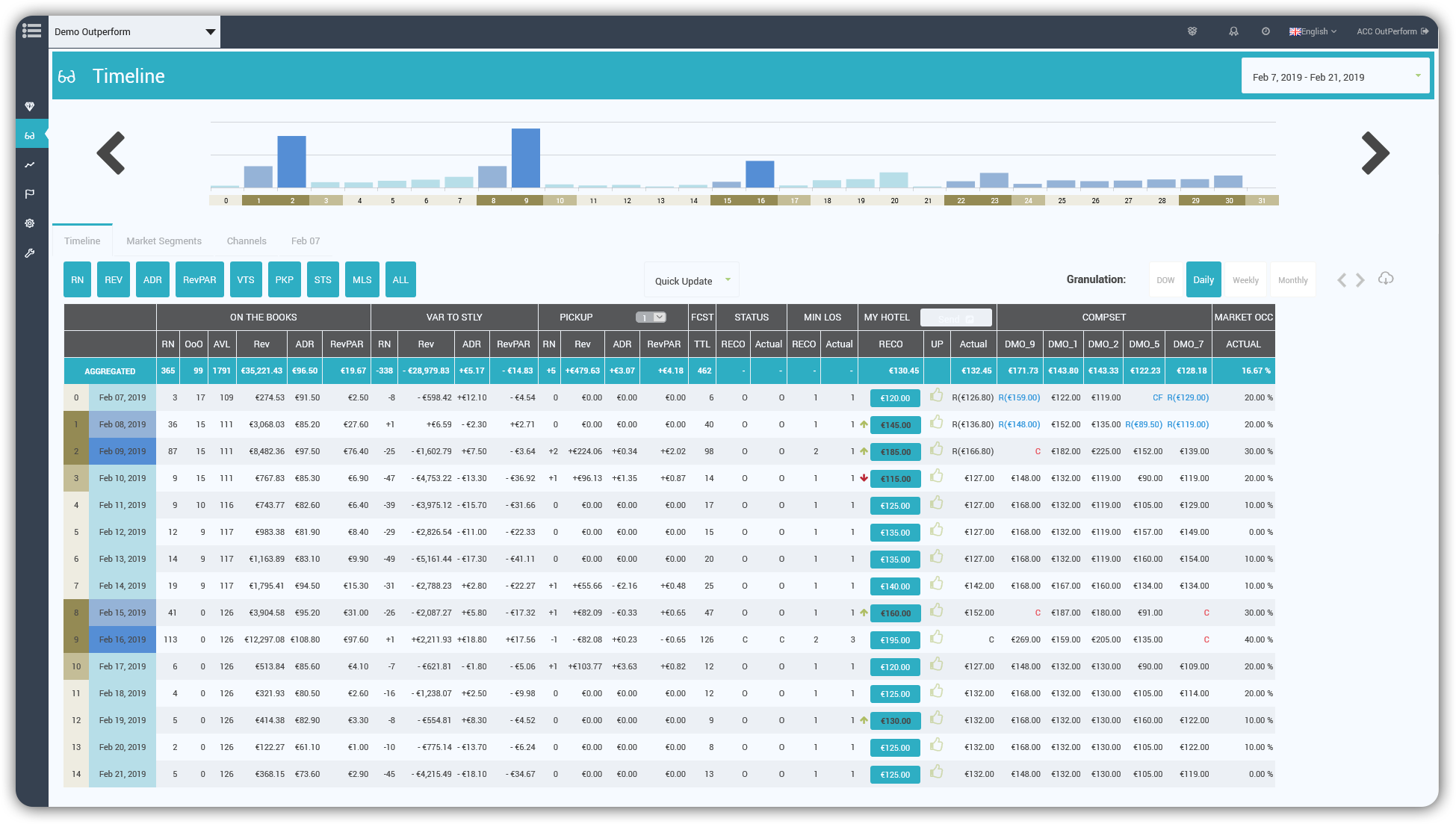 Columns can be collapsed to focus on certain KPI.
On the Books
On the Books data with RN, AVL, ADR, RevPAR and 2 new values: OoO and Revenue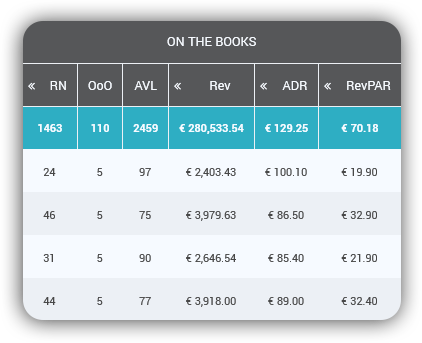 VAR to STLY
Variance to Same Time Last Year values for RN, Revenue (New), ADR, RevPAR (New)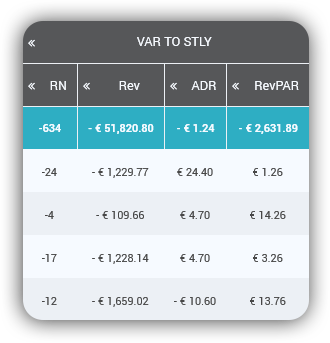 Pickup
PickUp values for RN, Revenue (New), ADR (New), RevPAR (New)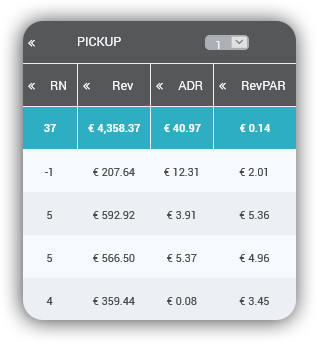 Forecast
Forecast of the total number of rooms occupied for the selected date / period
Status
Open / Close status of the subscriber property.
Actual & Reco (New)
Minimum Length of Stay
PickUp values for RN, Revenue (New), ADR (New), RevPAR (New)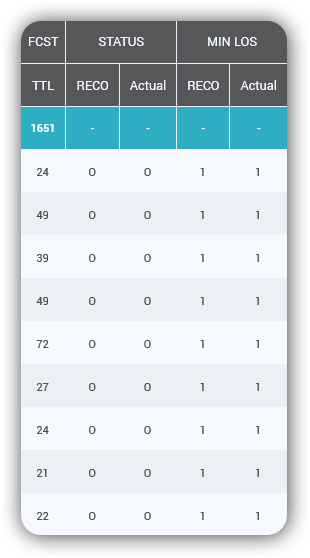 My Hotel
Recommended Rate, User Preference (New),
Actual Rate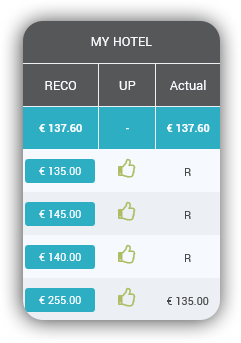 COMPSET
Compset rates with colour coding based on the comfort zone tuned in Compset Report, calendar view.
Market Occupancy
Market occupancy highlighted in a separate column, showing the number of hotels occupied.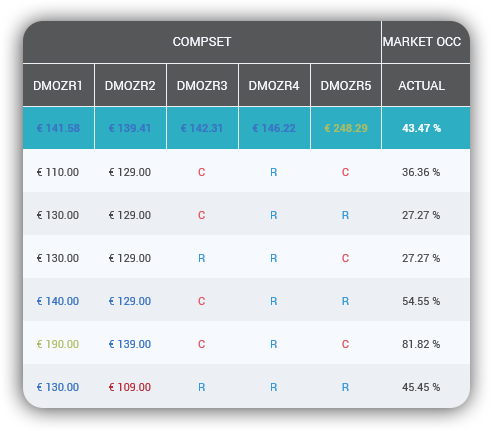 Granularity
Different levels of granularity to support a better and quicker decision process: Daily, Weekly and Monthly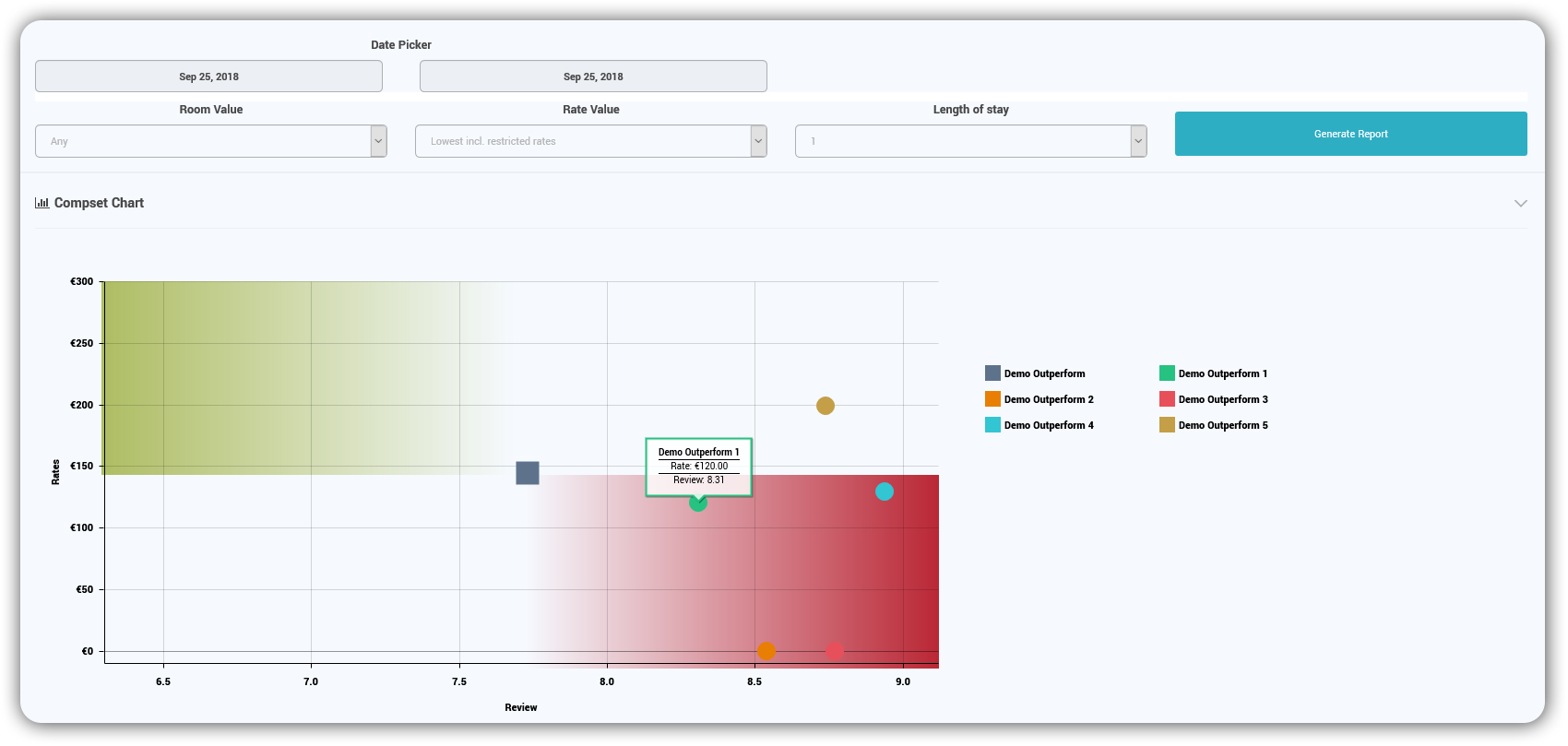 The value analysis consists of two main matrices:
The hotel's review score and the lowest published
rate. Subscriber hotel is always plotted in the centre, thus dividing the chart in four quadrants, representing:
Upper left quadrant:
Competitors display relatively high rates in relation to their review score.
Lower left quadrant:
Competitors offer a less popular product at a lower rate.
Upper right quadrant:
Competitors offer a lot of value to guests and have reason to charge a high rate.
Lower right quadrant:
Competitors are likely to under-price themselves – they offer greater value at comparable cheaper rates.
Budget
Monthly Budget View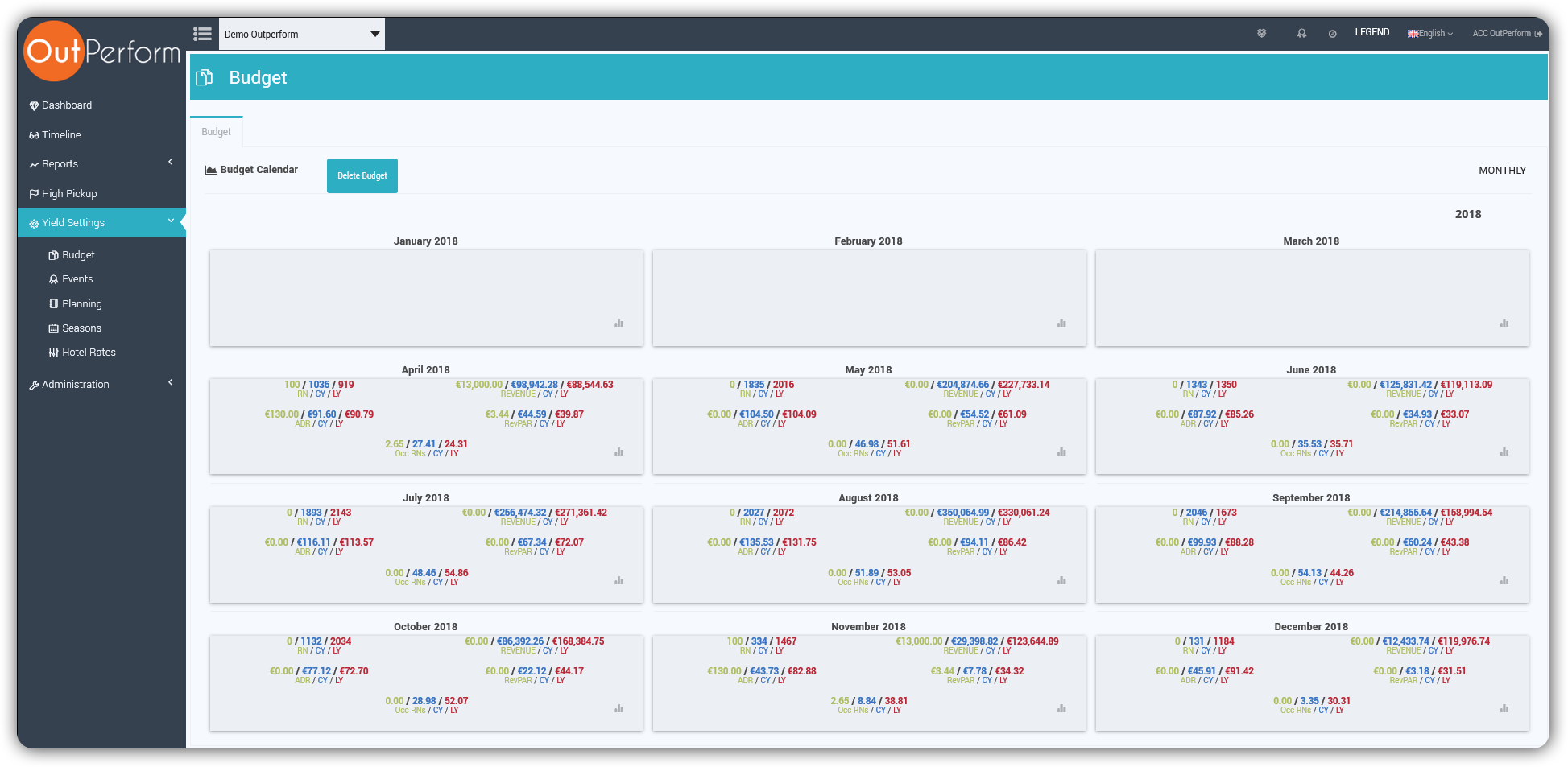 Green – Budget
Blue – current year values
Red – last year values
Displayed values for each month:
Room Nights
Revenue
Average Daily Rate
RevPar
Occupancy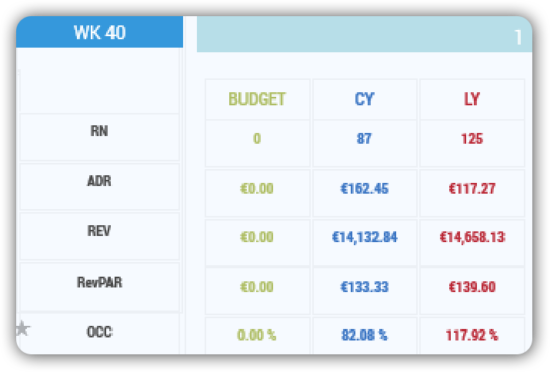 Green – Budget
Blue – current year values
Red – last year values
Displayed values for each day:
Room Nights
Average Daily Rate
Revenue
RevPar
Occupancy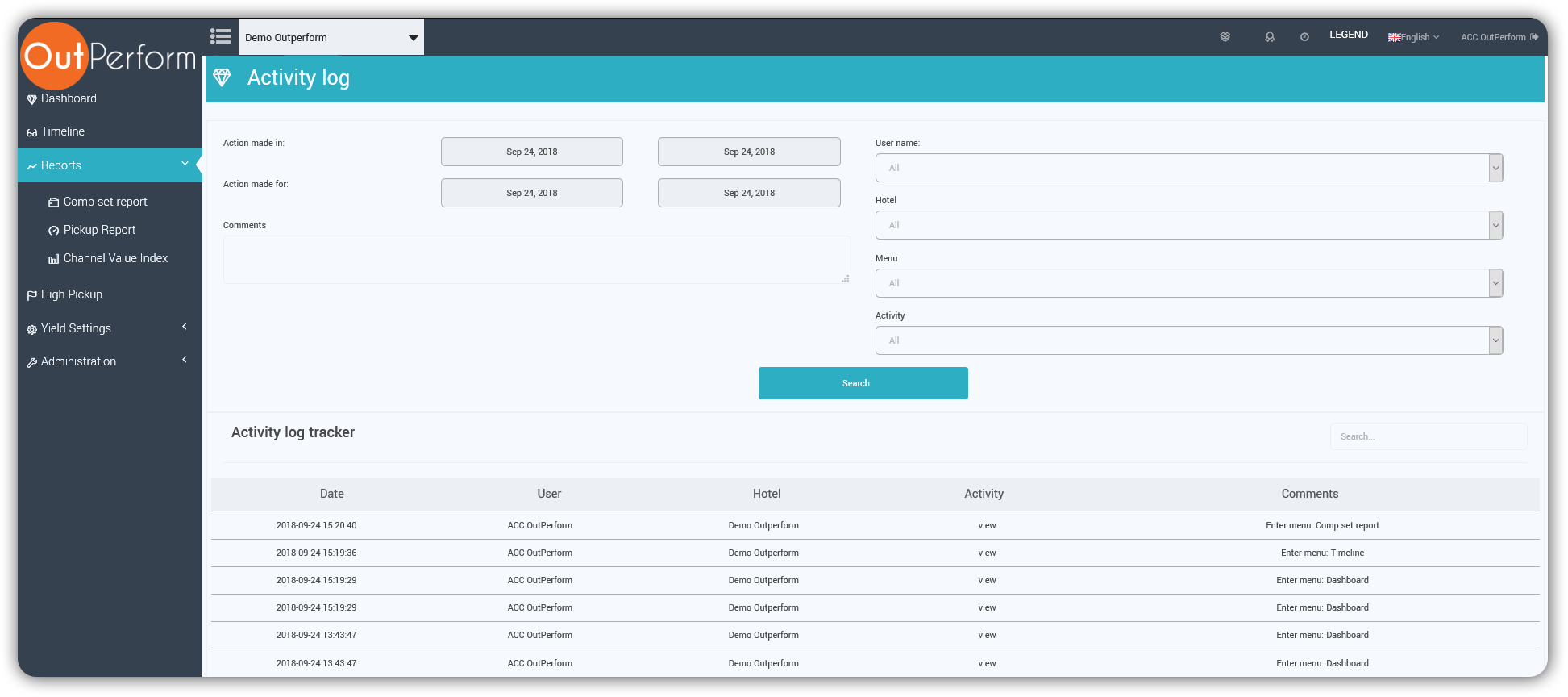 The Activity log shows you which users logged into the app and what actions were taken by these users. It shows details such as: date, user, hotel, activity and comments.
A set of filters help narrow down the search: Action made in / Action made for, Comments, User name, Hotel, Menu, and Activity.